Four museums buy work by Patricia Kaersenhout
Four museums join forces to give underrepresented heroines of resistance a place in Dutch art institutions. The monumental installation Guess Who's Coming To Dinner Too? (2017-2019/20/21) by Patricia Kaersenhout (1966, NL) was purchased with generous support from the Rembrandt Association and Mondriaan Fund by the Frans Hals Museum Haarlem, Centraal Museum Utrecht, Stedelijk Museum Amsterdam and Van Abbemuseum Eindhoven.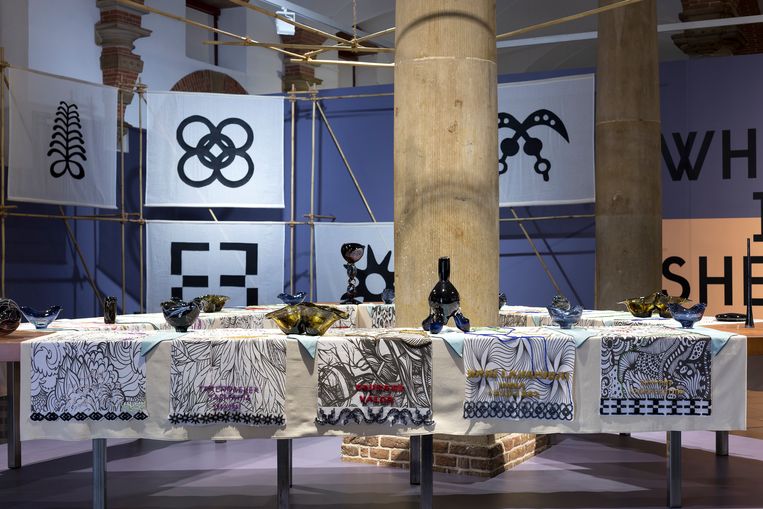 Photo: Charlott Markus
Consisting of four large tables, each in the shape of a triangle, the installation seats a total of sixty women from Queen Nefertiti to activist Shirley Colleen Smith. With this artwork, the artist sheds light on underexposed stories from world history to create a fuller, more honest, historical perspective. Kaersenhout is considered one of today's most prominent artists. Her artistic practice unites visual power and cultural activism.
Patricia Kaersenhout, in collaboration with AGA LAB / Alex de Vocht, printed the table runners on cotton cheese linen in our digital department in our studio, on which the names of 60 women were later embroidered with beads by different women during several embroidery sessions, at various locations.
"The work I make is never for my own self-aggrandisement. I see my artistic work as serving a purpose – in other words, I think it's important to share histories that have been erased with a broader audience, through art. By doing this, I hope to contribute to a fuller, more honest perspective of histories other than the Western one. Thanks to the purchase 'Guess Who's Coming to Dinner Too?', the stories of the women at the table have become a part of the Dutch curriculum."
Patricia Kaersenhout (1966)
---
Read more about this work and its purchase
via Het Parool (only available in Dutch)
via Het Frans Hals Museum (only available in Dutch)