We are a DIY workshop. We assume that you master the basics and that your experience is fairly up-to-date. If you can't work independently within one of the techniques, you can follow one of our basic workshops. Or you can hire a technical supervisor to print the work for or with you.
Technical guidance is available in the workplace from Monday to Thursday – each day has its own tenchical supervisor with his or hers own expertise. In addition, on Friday and Saturday you can count on some artists and other voluntary assistants who can help you out in the workplace. Our technical experts can help you start up, give you tips on the application of a technique or specific material and think along with you.
If you are planning to come in for the first time, start by making an appointment by giving us a call or send us an e-mail. We will then schedule an introduction with you for an explanation of the studio and our workflow.
We are an environmentally friendly workplace. That means, among other things, that with screen printing we use water-based ink and refrain from using turpentine in the entire workplace. If you want to know more about this, please contact the technical supervisor.
Read more about our facilities below the photo.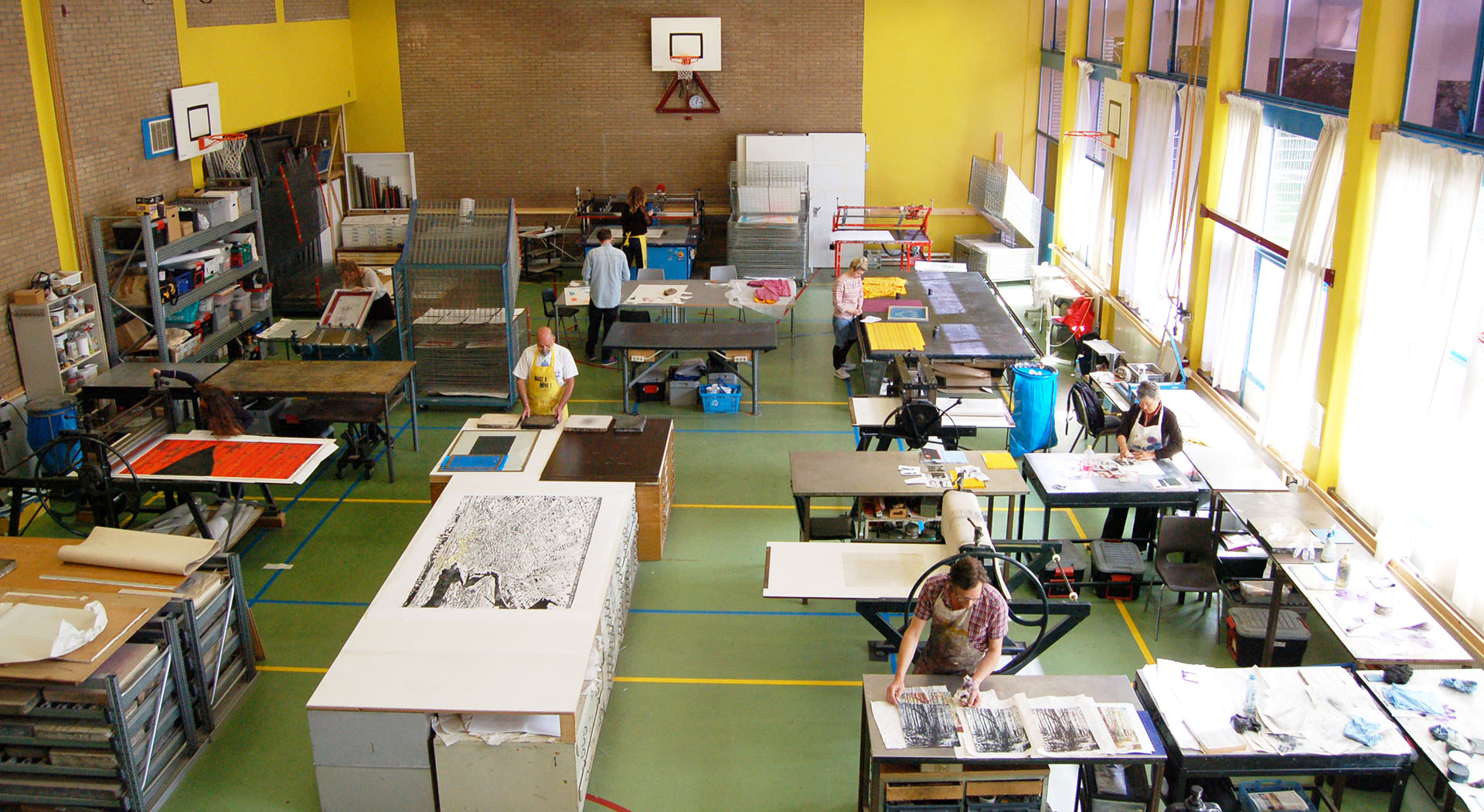 Our workshop offers the following facilities:
Screen printing tables for paper and textile
Etching presses for various etching techniques and toyobo
Relief printing press for linocuts, woodcut and letterpress
Litho presses for lithography
Doka for toyobo and analog photography
Digital printers for piezography / fine-art printing
Scanner for sight and transparency
Washrooms for etching plates, limestone and screen printing frames
Drying rooms for screen printing frames and etching press felts
Light boxes for toyobo and screen printing
Metal cutter for etching plates
Furnaces for etching
Storage boxes and drawers
Silk screen windows and storage space