It often happens that voluntary work eventually leads to a paid job. This also happened to Geert Schriever (66) earlier this year at the Amsterdams Grafisch Atelier (AGA LAB). A job that fits him like a glove. "The funny thing is that everything I criticized before was now up to me to change."
Geert devoted his entire working life to graphic art. He learned "the trade" from the master: the recently deceased Wim Crouwel of Total Design. The craft fascinated him, the development of new techniques and possibilities have always been a world of inspiration for him. He enjoyed fulfilling various functions in art as a graphic designer, publisher, gallery owner and collector. But when the profession brought more and more screen activity with it, he missed the personal contact of the past. Because working with people in particular always gave extra pleasure.
Perfect match
After a period of reflection – and informal care – he decided seven years ago to opt for voluntary work. Geert: "Through my efforts as a caregiver, I came into contact with other volunteers and someone pointed me to Volunteer Central Amsterdam, with her enormous range of volunteer jobs here in Amsterdam. That website is great, you can search exactly for those things that you like or that you have an elective affinity with. For example, I found something nice at the Amsterdams Grafisch Atelier. In addition to my great love for Art, Ink and Paper, I can also find the so missed "working for the people" here. As a volunteer, I assisted artists with the use of our printing machines but also did household tasks such as emptying trash cans. In addition, I was already involved in our "Artists in Residence" program."
A manufacturing place
"Our studio is a place for artists, designers and other creative professionals from all over the world who want to experiment with graphic techniques. Artists can use all kinds of printing machines for a small fee, such as screen printing, etching, lithography and lithography. Technical guidance is available and workshops and masterclasses take place regularly."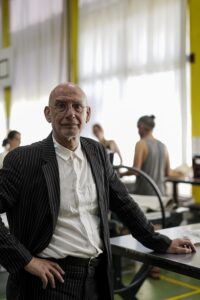 Honourable proposal
"At the beginning of this year, the previous director suddenly left for another position. When the board asked me to be interim director, because of my professional knowledge and experience, I was obviously honoured. I didn't have to think long about it and got to work. I now manage the staff and volunteers and meet artists from all over the world! After a workday here I'm always overflowing of energy. The funny thing is that everything I criticized before was now up to me to change. Many things already have been improved, to the satisfaction of the team and our visitors. I certainly get appreciated for my commitment, as is evident from the requests to stay on. Who knows, it is already a nice compliment."
Beautiful works of art are created here
"The best thing about this job is guiding people and hosting them. The exchange of ideas, experimentation and improvisation ensures that no two days are the same and it also produces beautiful artwork. There is a good chance that the work of the Kunstuitleen on your wall or that piece you're admiring in Het Stedelijk Museum was simply made here! "
This article was previously published on the site of the Vrijwilligers Centrale Amsterdam (Volunteer Center Amsterdam).
Interview: Sonja Remkes
Photos: Jackie Mulder